TELEPHONE:

707-933-8800
E-MAIL:
richband@
bigbandswing.com

About Us | Special Events | Music Services | Big Band CD | Contact Us
WEDDINGS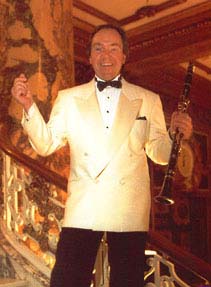 Richard Olsen is known as the premier wedding band in
the Bay area. He also has a large international clientele.
Quotes were excerpted from multiple interviews with event industry professionals
Richard's got the type of band I would use at a big wedding where you really want the music to be great, something really special. I see him at the better functions, the bigger more elaborate ones with the higher budgets, He's at the high end of the spectrum because he's very talented, versatile and personable. He's definitely high caliber. Just fantastic.

Richard does a good job of engaging the crowd: he really pays attention. For instance, sometimes you get a loud, raucous band that forgets that they're at a wedding. Not Richard. He very much plays to the audience, reads the crowd well, and since he's so versatile, he reacts well to requests.
About Us | Special Events | Music Services | Big Band CD | Contact Us | Video
© Richard Olsen 2012 - All Rights Reserved