About Us |Weddings | Special Events | Big Band CD | Contact Us
MUSIC SERVICES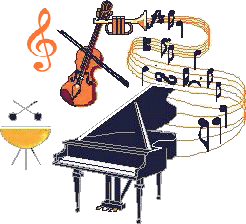 Richard Olsen Orchestras provides a variety of musical services from solo musicians, duo's, trios, and string quartets, small combo's, all the way up to his 17 piece Big Band, including female vocalists.

Richard offers a complete music service and can provide you with any type of music or entertainment needed, from background to Big Band. He plays for many different types of clients, including Corporate Events, Private Parties, Society functions, Weddings, Gala Dinner-Dances, Wineries, and any type of Special Event.

The following chart shows some of the options for background music, and smaller size bands. Talk to Richard to personalize the music for your event.
| | | | |
| --- | --- | --- | --- |
| Piano | Piano & Bass | 2 Violins & Cello | 2 Violins,1 viola, & Cello |
| Guitar | Guitar & Bass | Violin, Viola & Cello | Piano, bass, drums & clarinet/saxophone |
| Harp | Guitar & flute | Violin, Flute & Cello | Piano, bass, drums & female vocalist |
| Violin | Harp & flute | Guitar, flute & bass | Dixieland - Banjo, clarinet, tuba, trumpet |
| Cello | Piano & clarinet | Piano, bass & clarinet | |
Soloists Whether you want exuberant show tunes, sparkling cool jazz, or romantic ballads, our soloists create the perfect atmosphere for your guests. Our pool of experienced professionals include accompanists for such entertainers as Tony Bennett, Van Morrison, Boz Scaggs, Frank Sinatra and for many other Broadway shows.
String Combos The virtuoso violin sets the tone for a number of different combinations of instruments offering a tantalizing array of musical genres: Strauss waltzes, Chamber Music, Broadway Show Tunes, Strolling, Dancing, Background.
Small Combos Our combos of four to five musicians perform everything from rhythmic swing of the 30's and 40's to exciting rock of the 70's, 80's, 90's and today's music. Vocalists give the music an added dimension. You'll find our small bands ideal for parties, weddings, dances - or just sit back and enjoy them!
Big Bands Our 10 - 17 Piece Big Bands, bring you a bonanza of wonderful hits for dancing the night away. Our repertoire encompasses the music of Benny Goodman, Artie Shaw, Glenn Miller, Tommy Dorsey, Count Basie, Duke Ellington, Louis Prima and other giants of the Big Band era, as well as the latest in contemporary rock and Latin. Be sure to ask about special "Theme" parties Latin, Western, Society or any other theme.
© Richard Olsen 2012 - All Rights Reserved